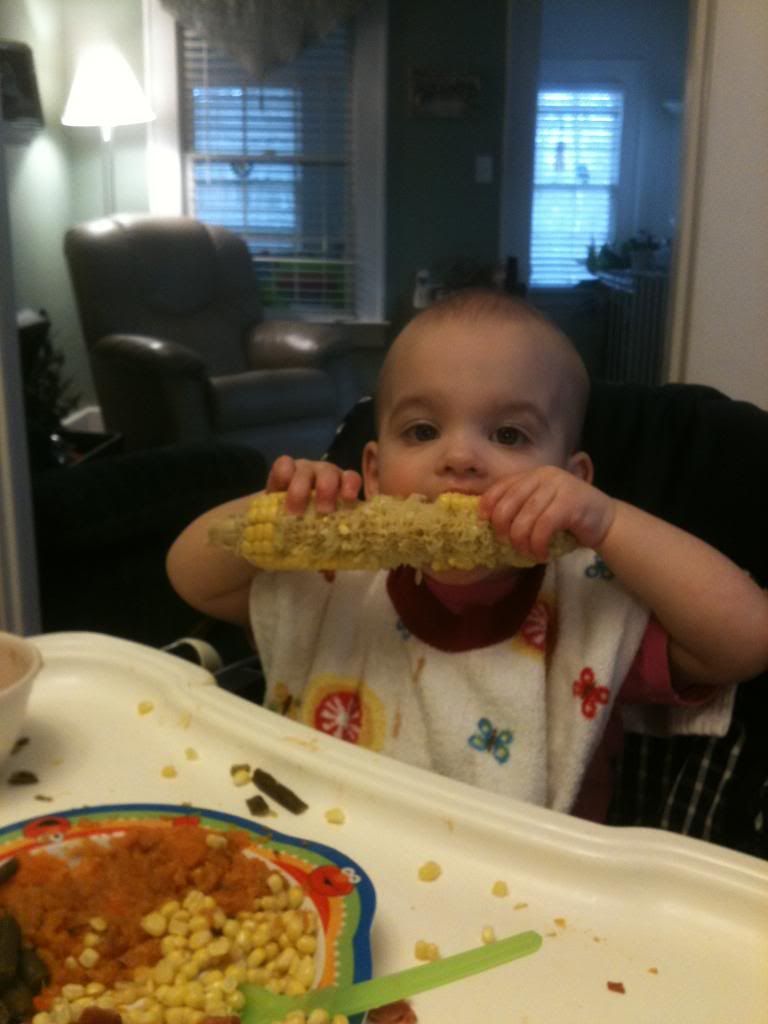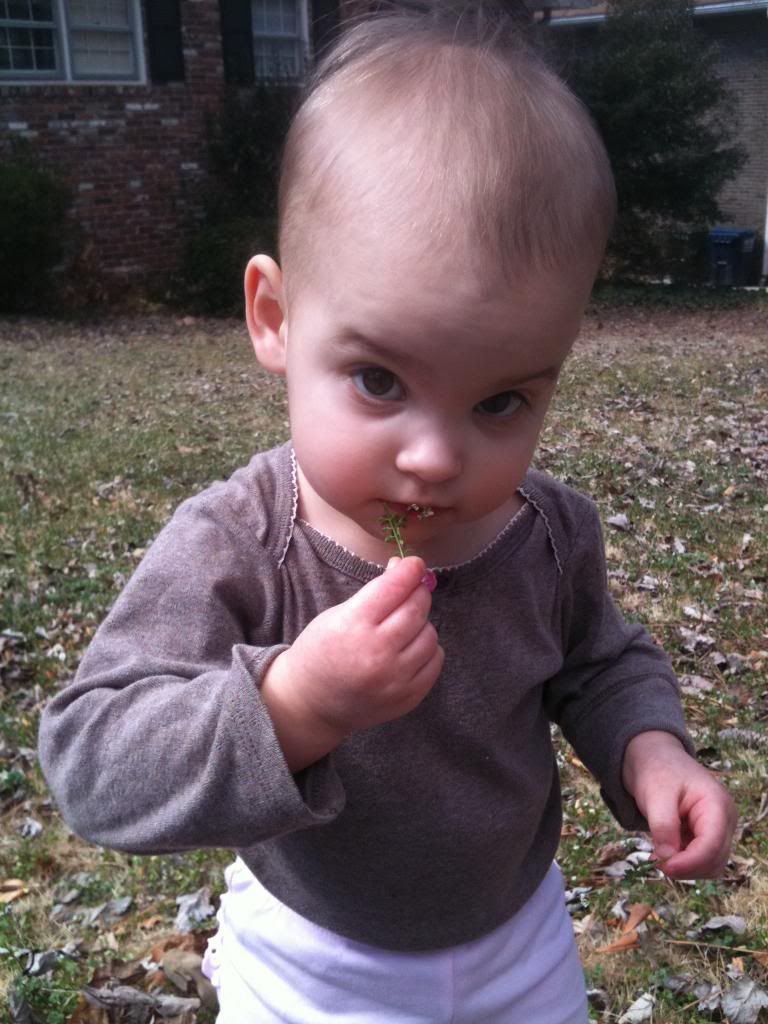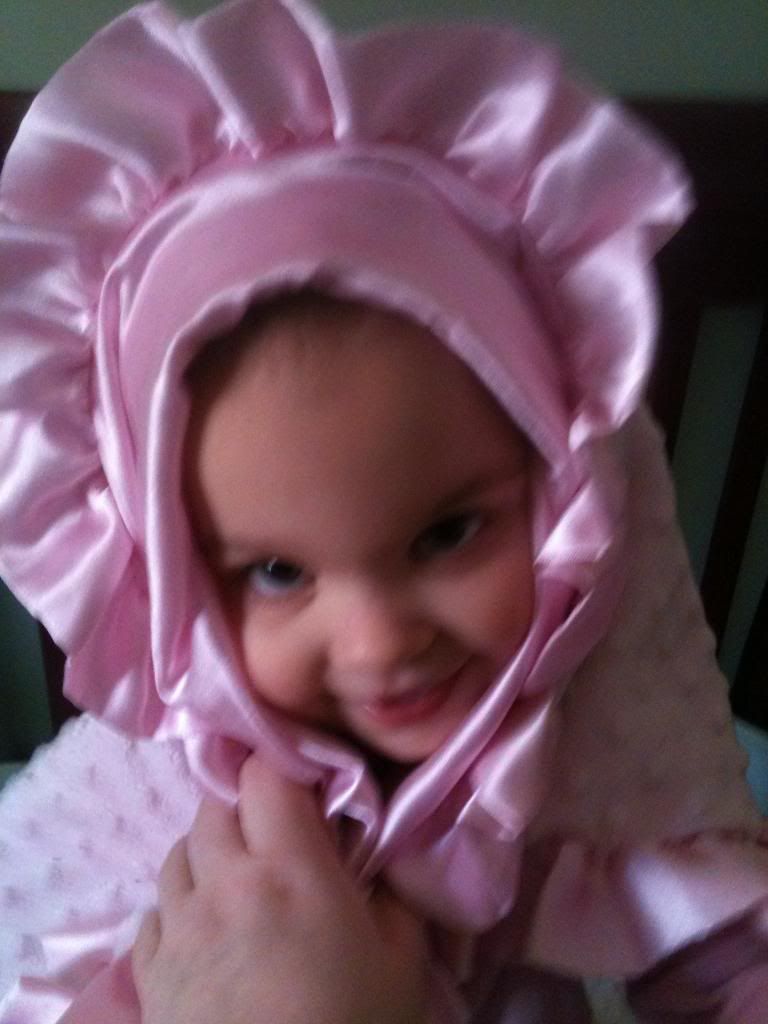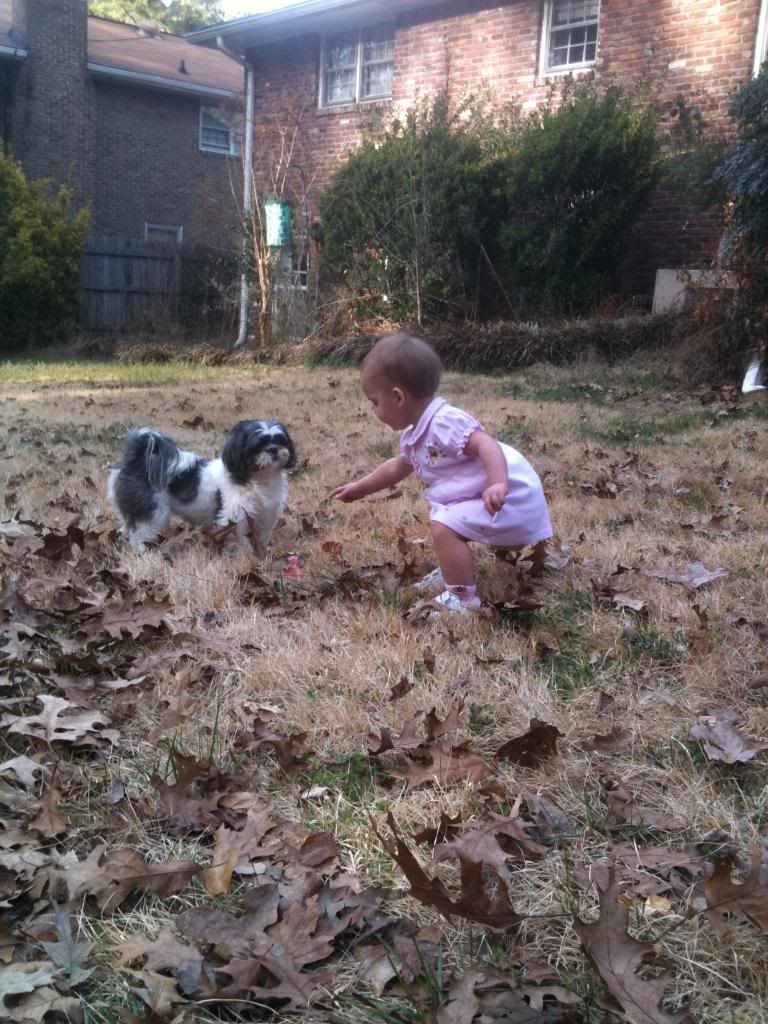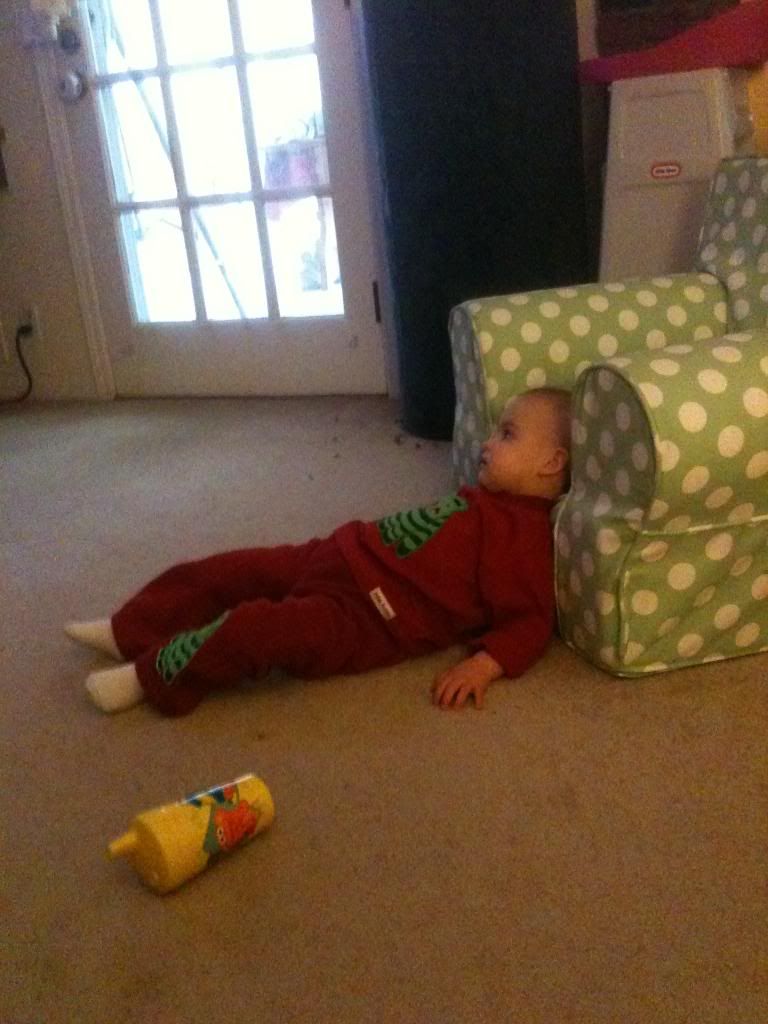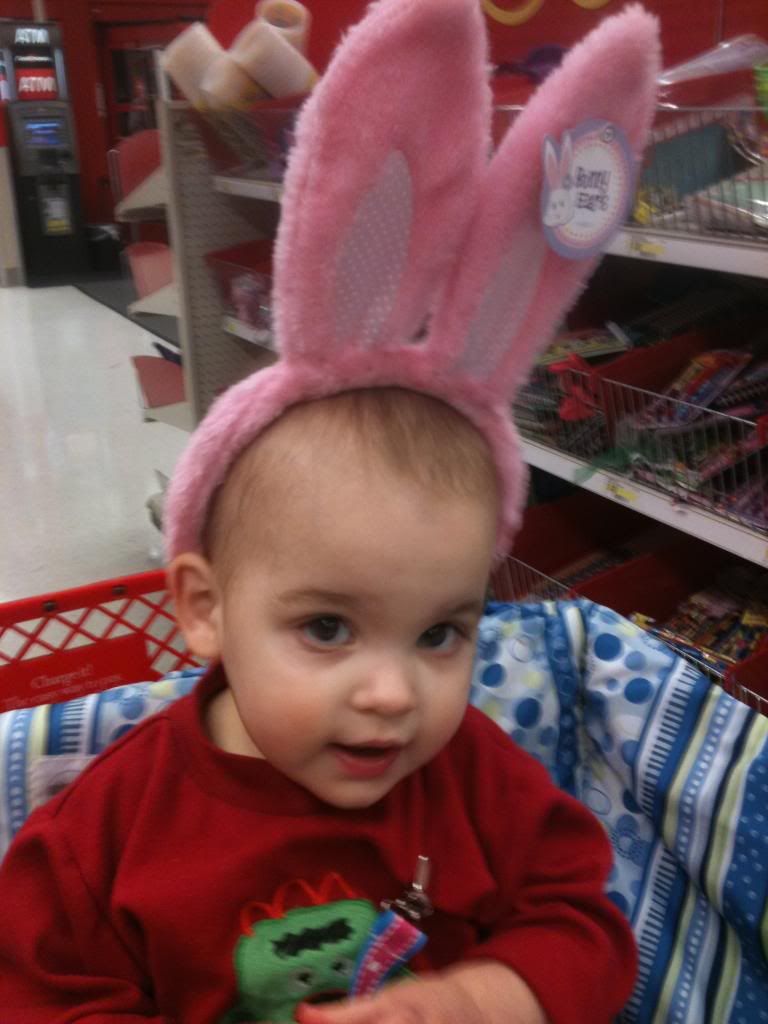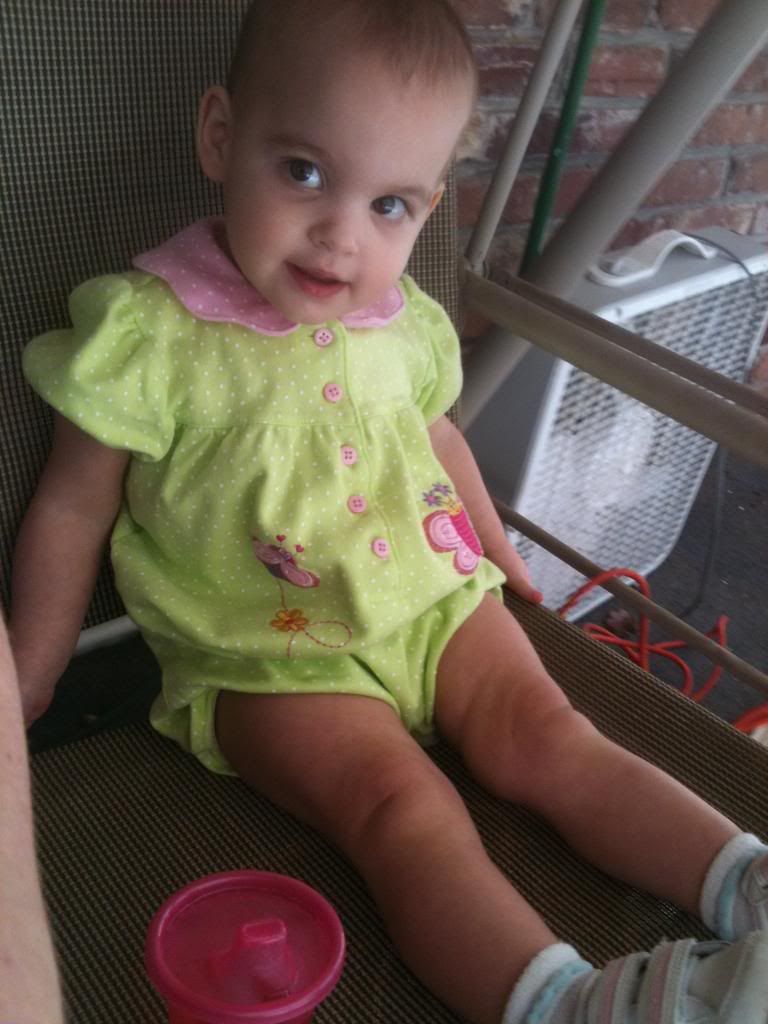 It's been far too long since I've uploaded some pictures of Em, so here you go. She's just the sweetest thing lately. We have SO much fun together. I told Brad the other night, I was expecting to have a holy terror on my hands by this age. She just seems to get more affectionate, better behaved, and more fun as the days go by. This week she's started to ask "where it go?" with her hands in the air. It's the cutest thing EVER!!

The other day we went to Trader Joe's. The cashier said "hey, cutie!" to Emma. Her response? "Hey, cutie!" We just about died. She's talking SO much these days. Every day she comes up with new words and puts together more words. Right now she's combining 3 or so. Her favorite song is Twinkle, Twinkle, Little Star. She gets us to sing it by saying "up above the....." Precious. She loves to say "come on, Lucy." She sounds so country with that one though - it usually sounds like "come own, Lucy." She also learned how to knock on doors, thanks to her Mimi. There's nothing like being in the restroom and hearing what sounds like an adult knocking on the door, only to find out it's Emma!

She's quite the little eater too. If it's spicy, she wants it. Her favorite meal of all time is jambalaya with turkey smoked sausage. She will eat TONS of it. She also likes white bean chicken chili, spaghetti (well, she hates spaghetti noodles, but loves

penne

,

ziti

, or whatever else with marinara sauce). She adores beans or peas of any kind. She hates green beans these days, but loves corn, green peas, sweet potatoes, baked potatoes (with plenty of butter, salt, pepper, and cheese!). She eats waffles just about every morning. They're easy, and I'm guaranteed that she'll eat them. She also loves cheese eggs, but only if mommy cooks them. Daddy found that one out the hard way!

She's an excellent sleeper. She goes to bed around 8:30 or so, and we don't hear a peep until 7:30-8:30 the next morning. She has to sleep with

Brobee

and

Muno

(from Yo

Gabba

Gabba

.) I've tried taking one out, but she notices and asks for him. She's a mess. I'm not going to complain though!

We're getting her big girl room ready. Brad is still in the very slow process of cleaning out what WAS our guest bedroom/office/dumping ground for all of Brad's......well, let's be honest. Crap. We're going to paint the walls a pale pink and she's getting black and ivory

toile

bedding. Her furniture will also be white. I can't wait to see it come together! We plan to transition her well before Abby comes, so that it's not all new. We're going to borrow the white crib that my parents have and aren't using, and let her use that until she is really ready for a toddler bed. Why mess with 12 hours of uninterrupted sleep?? We have a toddler bed that I got off of

Craigslist

for $20, waiting to go. We ALSO have a twin bed and mattress that she can use next. We're all set!

I am so happy that she's getting a sister. A brother would have been a blessing too, but I've always dreamed of a sister and am SO glad that Emma will get to experience that. She'll never be alone. Never have to make decisions alone. The older I get, the more I wish I had that. I'm so blessed that Emma will. I can't wait to see the two together. Emma will be the bossy "Angelica" sister (from

Rugrats

, if anyone remembers that!). I can see it now. I can't wait!!